Archbishop Makarios III Hospital
Makarios III Hospital was established in 1984, as an innovative and specialised hospital for Mother and Child.
It is the most complete and well-staffed Pediatric Hospital in the country and at the same time provides all the specialised health services for mothers.
Archbishop Makarios III Hospital is part of GHS and is active in the field of primary, secondary and tertiary care. The primary purpose of the hospital is to provide a high level of medical and nursing health services with modern equipment, delivery rooms, neonatal and pediatric intensive care units.
The scientific staff, including doctors, midwives, qualified nurses and other support staff, remains on-duty 24 hours a day.
Our goal is the continuous quality upgrade of health services for Mother and Child.
Company Information
Number of Employees
1-50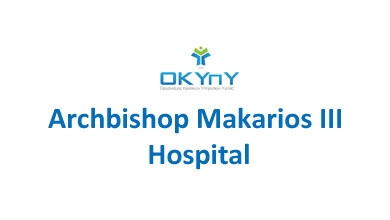 Address & Contacts
Street Address
Korytsas 6 , Nicosia 2012 , Cyprus
Contact
Working Hours
now
Normal Opening Hours
Mon:

Open All Day (24h)

Tue:

Open All Day (24h)

Wed:

Open All Day (24h)

Thu:

Open All Day (24h)

Fri:

Open All Day (24h)

Sat:

Open All Day (24h)

Sun:

Open All Day (24h)